Beyond classical music: the story of Daniel Rowland, a talented violinist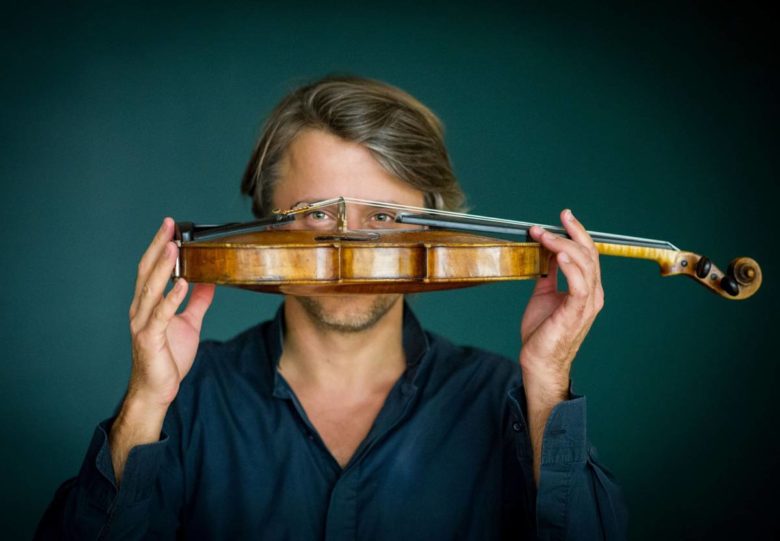 When I was eleven, during an audition, a famous violin teacher based in Amsterdam asked me: "Da­niel, do you already know who you want to become when you grow up?". And I thought: "Of course I know! A violinist".
Star of the Trecastagni In­ter­na­tio­nal Mu­sic Fe­sti­val, Da­niel Ro­w­land shared with us his point of view on music
He is creative, vivacious and full of passion. And, as every year, the Anglo-Dutch violinist Daniel Rowland fascinated everyone at the Trecastagni International Music Festival with his charm and will to amaze his Sicilian audience, proposing unconventional choices and pieces which were never heard before. On 31 July he performed a tribute to Debussy and Bernstein in the enchanting courtyard of Saint Nicholas Church. The day after, instead, he exhibited in a program dedicated to Italy and to the musician Giovanni Sollima. We had the pleasure of interviewing him before his performance to discover his point of view on music.
This is not your first time in Sicily and at the Trecastagni International Music Festival. What is your link with the festival and with this land?
«I feel a strong connection with Sicily, mainly due to the friendship between me and the Maestro Carmelo Pappalardo: we met in 1996, when I was a student and he came to a master class in Netherland to find young talents who could play at his performances. The Festival had not been inaugurated yet, I think it was launched a couple of years later, around 1999. I guess I took part to every edition, except one, and it is an immense pleasure for me to come back every year: I am fond of this family and this place. Coming back here is like coming back home».
Your performances and unconventional repertoires fascinate your public every year. In 2018 chose a tribute to Debussy and Bernstein for your first show, whereas on the 1st of August you proposed a tribute to "A trip to Italy", with a route starting from Vivaldi and ending with Sollima. What can you tell us about the reasons of this choice and your relationship with these composers?
«I think that it is very important to play well-known and listenable pieces, but also to create a various program with its own continuity. I often perform pieces that audience has probably never heard before. At last year's Festival, for example, I played John Corigliano's Red Violin, a soundtrack from a movie telling the story of a violin over the centuries. The program of the first evening celebrated Debussy, one of my favorite musicians, whose death's centenary occurs this year. It also included Bernstein's West Side Story: I chose a particular fantasia for violin and piano which had almost never been played before, as it is a variation that I heard in America thanks to a friend. Finally, together with the other musicians, we tried to create a pleasant atmosphere with Mahler and Brahms' pieces.
Our second performance included a program called "A trip to Italy", an excursus through Italian culture and music history. I took its name from one of Giovanni Sollima's pieces (he is one of the best-known Sicilian musicians around the world and I greatly appreciate him). It was followed by Tchaikovsky's Souvenir de Florence, and it was a pleasure for me to play it in Sicily».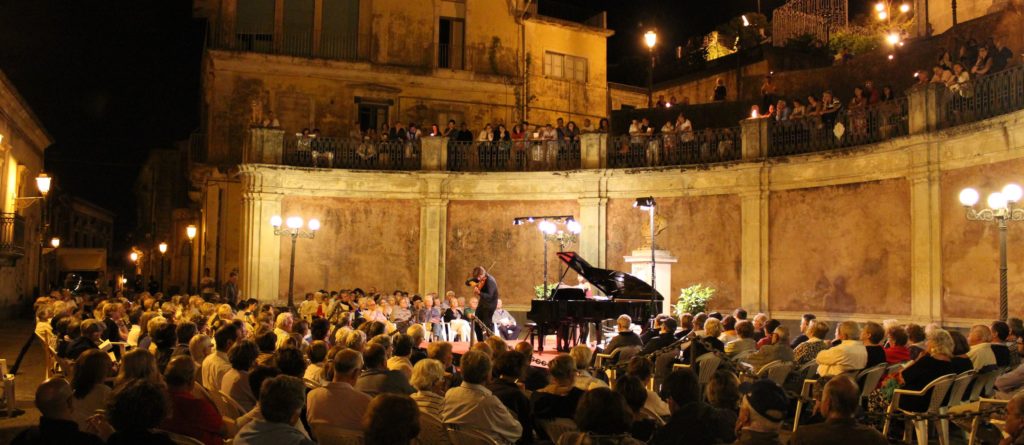 Reading your biography, it is clear that you learnt a lot during your education and that you are not only an expert of classical repertoires. What makes the difference in one's education in your opinion, when it comes to music?
«To become a good violinist, first of all you need to be lucky enough to be born with some talent, even if this has to go with a hard education. Secondarily, you need to have a great passion for music: it is necessary to know the history behind a piece and its composer. Finally, meeting other musicians is very useful to always get inspired. Festivals like this one, for example, give us the opportunity to meet with musicians from all over the world and to get a good influence in our personal growth».
People who take violin lessons usually start in their childhood, as it is a quite long and difficult study course. How did you find the passion you needed and when did you understand that this was the right path for you for the first time?
«I started when I was 5 years old and my parents gave me a violin for my birthday. They were both musicians, so I grew up listening to music at home. I started, and I kept on. During adolescence everything seems to be more complicated, because you become lazy and stop thinking that taking violin lessons is "cool". Anyway, when I was eleven and during an audition, a famous violin teacher of Amsterdam asked me: "Da­niel, do you already know who you want to become when you grow up?". And I thought: "Of course I know! A violinist"».
You grew up in Twente, a small Dutch town full of history and with an old church, and you decided to create your own festival there, the so-called Stift Festival. You said that your aim was to valorize Twente's charm and to bring great musicians and artists together in the open-air – which is exactly what happens during the Trecastagni Music Festival too. Which do you think is the role and value of these Festivals nowadays?
«The Stift Festival was found in a smaller place than Trecastagni, with only a church and a few houses around, and where, by the way, I lived when I was a child. We started 14 years ago with some concerts and now the festival is getting bigger and bigger every day. It also includes other forms of art, like literature or cinema: this year, for example, they are going to show some open-air movies. Of course, it is necessary to be brave and to feel involved, if you want to keep music alive. In a festival you can propose many different elements going beyond classical repertoires, like programs full of contrasts. Musicians come from all over the world, so they all meet in a real "melting pot" of cultures. I know how hard it must be to encourage projects like this in Italy and I have much respect for the people who can keep this "fire" going. I often think that listening to good music can make people better, because music in general can give something special to our souls and let us be less selfish and less worried about little things in life. And this is always helpful».
Translated into English by Daniela Marsala