Massimiliano Coco: «Proposing "pesce d'uovo",  a dish that my mum was used to make at home, is a way to introduce others to our culture through a sensorial experience»
Tourist guides are the ambassadors of the naturalistic, historical and architectural beauties of any land and, as cultural operators and spokespeople for the many tourists crowding into Ortigia (the most popular district of Syracuse, Sicily), they can describe the town through its traditions linked with food and wine too. This is the mindset which led the restaurant Pesceduovo make an experiment: they tried to prepare a unique dish through which visitors can taste Sicily. Butwhere does it come from?
« As the name of our bistro suggests, our project comes from the idea of ​​offering our customers our pesce d'uovo, a dish that my mum used to make at home» said Massimiliano Coco, one of the owners of the restaurant located in via Picherale, in the core of Ortigia. In just  one year of working activity, Massimiliano and his colleagues realized that this proposal made a great success, despite its simplicity and despite the fact that many could not understand it  (especially foreign tourists misled by the name of the dish ‒.
Massimiliano explained to Sicilian Post: «We prepare it in many different variations‒ : the classic one is served with tomato sauce, while the other ones can bestuffed  with seasonal vegetables,  fonduta di ragusanoor truffle from Iblei Mountains (the latter is the coolest version)». On the basys of the experience of last season, this year the managers of Pesceduovo, have decided to enlarge their offer for tourists by creating a dish that, in addition to  house specialities, includes other Sicilian recipes, which together can create an interesting taste route.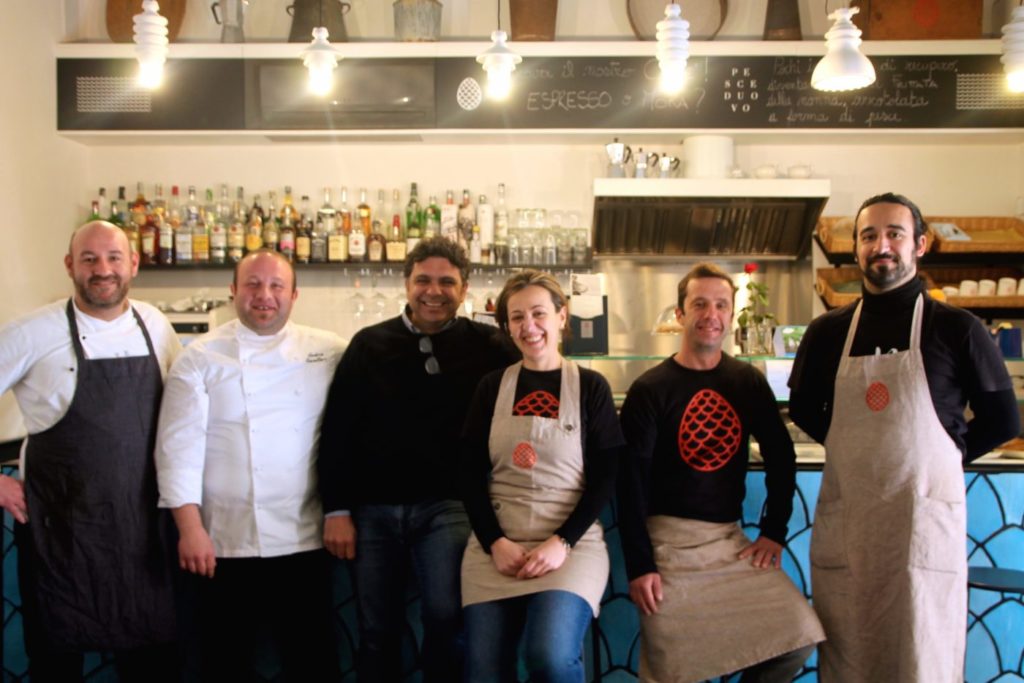 The chef Andrea Cavallaro took on the huge responsibility of creating Sicilian Tastes, which is a «tribute to those mothers and grandmothers who taught us that you welcome someone starting from the preparation of a good dish». Arancini, pesce d'uovo, vota vota from Modica (a white flatbread pizza), panecunzato from Trapani, panelle from Palermo, parmigiana, butalso potatoes and rice balls prepared by following Massimiliano's grandmother's recipe. «We conceived it with humility, trying not to modify the traditional recipes which were prepared in ancient restaurants too much and re-proposing them using all the techniques  we have at our disposal in catering sector».
Pesceduovo bid on it from the beginning, always keeping a high quality of its products and  offers. «Considering our favorable position,  a few steps from the Duomo, we could have been happy with cooking spaghetti with clams and fried fish, instead of  rather than focus on quality and on an interesting and accessible gastronomic offer, as we have done in the end». This special Sicilian taste was paired with a glass of wine from the wine cellar Cantina Marilinabased in Noto (in the district of San Lorenzo), that preserves the peculiarity of the territory and of its vines by using natural products. For this reason, it has proved to be an appropriate partner of Pesceduovo's mission.
A mission focusing  on the recovery of traditional flavors also through social networks, where users and restaurateurs can communicate and share opinions. «We have just closed a contest in which we asked the peoplewho follow us to propose one of their family recipes to be included in our current menu. The winners have been eggs "alla piripicchia" and spaghetti with tomato capuliato, pine nuts and almonds» ‒ told us Coco.
Translated into English by Daniela Marsala