---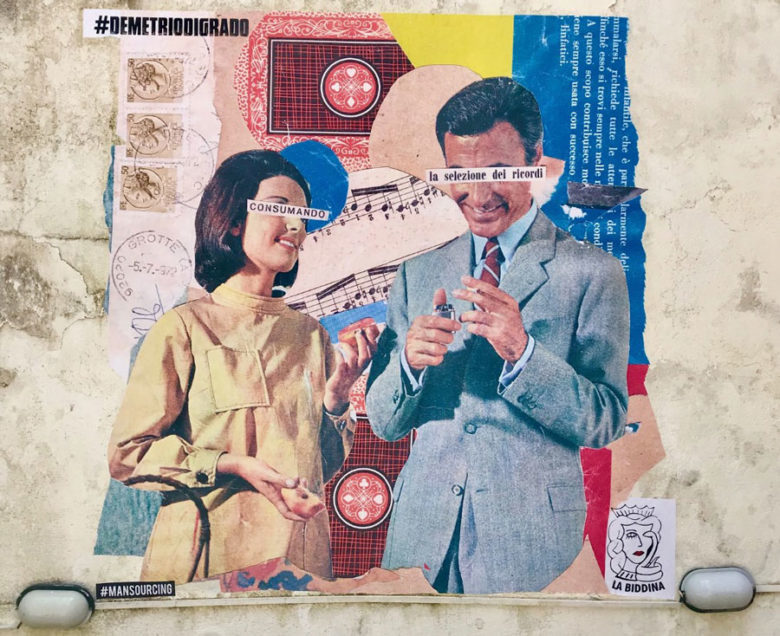 This artist from Palermo is always in search of new stimuli and carries out a multi-faceted activity, divided between his own production and the promotion of other talents through the association ManSourcing
The most direct and sharp communication is often entrusted to the eyes. This statement is very true if you look at the "talking" collages by Demetrio Di Grado, artist and founder of ManSourcing, an association that promotes young artists in the world of urban art. Between the streets and the studio, his works have reached an increasingly wider public, decorating walls, windows and doors in the most unexpected places and alleys, starting from Sicily. We met him to find out more about his path characterized by research and artistic promotion, between street art and passion for collage.
MANSOURCING. At the age of 40, after a career focused on abstract and informal painting, a new awareness changed the artist's life unexpectedly: «I did nothing but repeat myself, to the point of feeling bored. And when one has no more stimuli, which is the right thing to do?». This question underlies the reason that led him to a radical change. «I decided to dedicate myself to the works by emerging artists – Di Grado explained – by founding the association ManSourcing and dealing with all the services necessary for the presentation of exhibition projects. Thanks to the contacts and experiences that I had established over the years, I had the opportunity to organize many exhibitions, working with public and private organizations and galleries. It did not take much to get from the emerging artists to the professionals, but it is a path that is not simple». From ManSourcing and from the contact with the different artistic realities present in the territory, Di Grado then approached street art: «At a certain point I realized that conventional places no longer corresponded to my projects, so I came closer to the street. Since 2014 and for three editions, the Street Dreams Festival, organized by my association, has brought all the disciplines of visual and performative art along the streets of Caltagirone (province of Catania). Every year we have "adopted" a different neighborhood, cleaning it and hosting more than 50 artists there».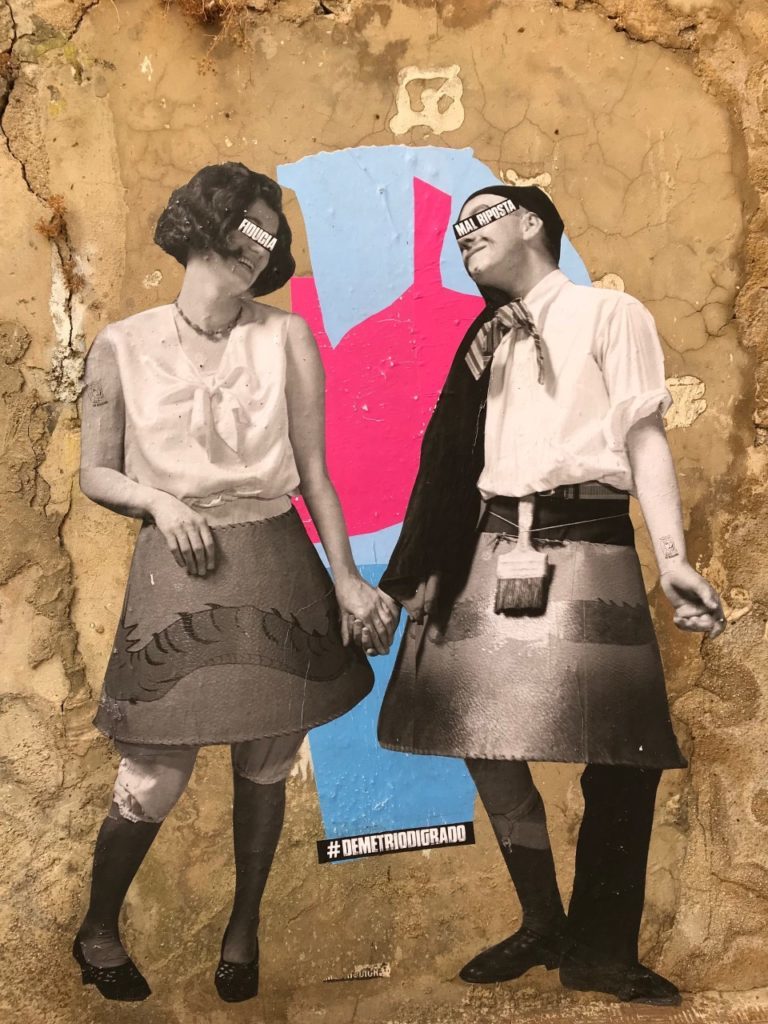 COLLAGING. After a first revolution with the foundation of ManSourcing, which allowed many talents to know each other and to grow together, Di Grado has rediscovered an old passion leading him to the realization of his most famous works. «At 40 I chose to dedicate some time to myself. Without a studio where to paint and between a diaper change and a second child's suck, I rediscovered an old passion of mine: collaging. The overlap of paper and old photographs has allowed me to depict some singular moments and to contextualize them in an A4 paper, going from nonsense to introspective posters. I have rewritten all my biography over the past three years starting from some scratches». The most recurrent subjects in his collages are women and children taken from magazines from the Twenties to the Fifties, with a concise and expressive message to convey. «The search for paper material is fundamental for me – said the artist. – I have a large archive and sometimes it happens that subjects choose me. To children I delegate what we adults cannot say and to women I recognize that pungent self-awareness that we men often do not have».
SICILIAN CONTEXT. Going around streets and lanes, street art works are increasingly present almost everywhere, ready to attract anyone's attention and, in some cases, to reduce the perception of urban decay. This happens in Catania, Lipari, Sciacca, Favara or Grotte, just to mention some of the Sicilian places where Demetrio Di Grado's works have arrived. They come out suddenly and force you to think of something specific. But what does the artist think of the socio-cultural context in which we live and in which urban art is evolving? «We are addicted to social networks, but, even though we have such powerful tools, we can't always use them in the best way. We destabilize ourselves with little and our attention spans have fallen. We are all victims of this mechanism». Speaking of the evolution of urban art in Sicily, Di Grado declared instead: «Street art in Sicily has evolved in the last 5 years, but it has not changed. We have gone from illegal walls to authorized walls, from a site specific to a commission. Every time I bring a new project to the streets and, when little villages themselves count on you, you realize that you don't have to take anything for granted».
Translated by Eva Luna Mascolino