The volunteers from Catania who love their dogs and want their good in a greener city
---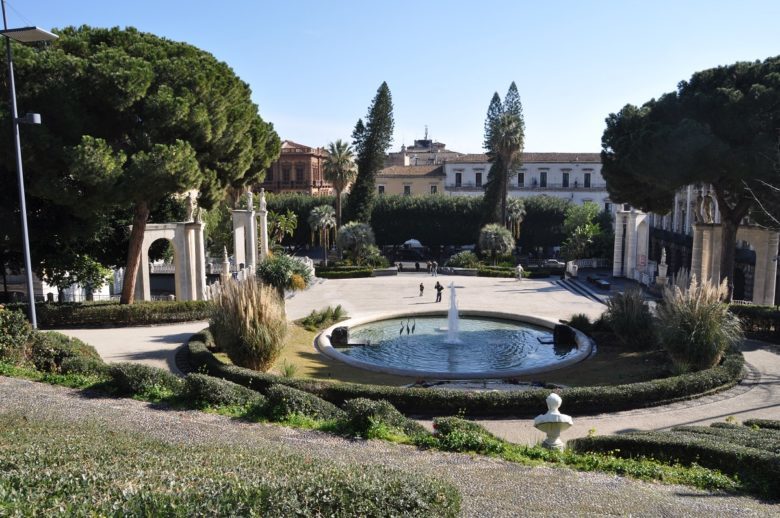 After the initiatives organized at the town beaches, the citizenship of Catania is now protecting the spaces of a public park thinking also about their pets. From the waste removal to the flower bed cleaning, they made a first step towards a sustainable future
"Even if the town centre would need an area dedicated to our furry friends, for the moment we owners are good with the flower beds in Villa Bellini – but we demand that they are clean at least!". These are the words of the citizens who gathered a few days ago to spontaneously clean up two areas of the historic public garden of Catania: the green space in which the statue of the composer Pietro Platania is located and the one in the avenue that runs along Via Tomaselli.
UNDER THE LEAVES… Dusty, the company to which the city has entrusted the cleaning service, also intervened to support this initiative. It supplied pliers, gloves and bags for the separate collection of waste. Instead the rakes were missing, even if they would have been necessary to remove some dried leaves: "We do not want to remove the fallen leaves, which in Autumn are be decorative, – said one of the volunteers – but we have to move them to see what's below". The group has cleaned up these areas to have a space in which to run their dogs without the risk of finding themselves in the middle of glasses, straws or even syringes: "Many visitors complain when we take the leash off our dogs, even if they are harmless, and the surveillance has often threatened us to fine us. Those who really deserve to be fined, however, are those who do not take care of green spaces and throw anything down", one of the participants states with angry.
LESS DEGRADATION, MORE AWARENESS. "We volunteers are a resource for this park: not only because we are cleaning some areas, but above all because we know which areas would really need surveillance. For example, the Avenue of Illustrious Men is dark and frequented by disreputable people. If, instead of leaving it in this state, they created a pet area, the situation would really improve". This is the request of the participants, who complain that they have repeatedly submitted an official request for a similar intervention, without getting any response. "It is incredible that those who live in the town centre have to take their car to find a pet area like that of Vulcania. They force us to pollute the environment", explains a lady with her handsome Cavalier King.
ZERO WASTE MISSION. "Speaking of cars – says a young man continues – it is not normal that in a public park all these cars can circulate and park". Villa Bellini is in fact a historic garden and as such should be protected: its gastronomic events attracting many people, for example, should not take place there, because it is inevitable that a lot of garbage will be produced. Orsola Trovato, head of communications at Dusty, shares her opinion with us: "The problem during such events is that we citizens have not yet overcome our throw-away mentality. Instead of switching from plastic to biodegradable items, we should go back to the good old habit of bringing a dish or glass from home to taste the food sold in these occasions". In the hope that the park can remain clean even when it hosts such gastronomic events, the people who have dedicated themselves to cleaning up its green areas argue that a historic public garden is more suitable for hosting environmental or civic education events.
ABOUT DIRTY. "The initiative to clean up the flowerbeds in which many dogs walk is admirable – says Orsola Trovato with a smile. – Several times Dusty has collaborated in clean-up events organized by the citizens, but this used to concern our beaches. For the first time, someone has also been worried about our fury friends". In the hope that the good intentions of the volunteers can become reality and that their initiative becomes an example for many others, the ideal would be that everyone had the good will to clean up one public area: if the majority does, the minority that dirty will finally understand to be wrong.
Translated by Eva Luna Mascolino