Bill Frisell presents the project 'Harmony', "where all voices interweave thanks to my guitar songs"
---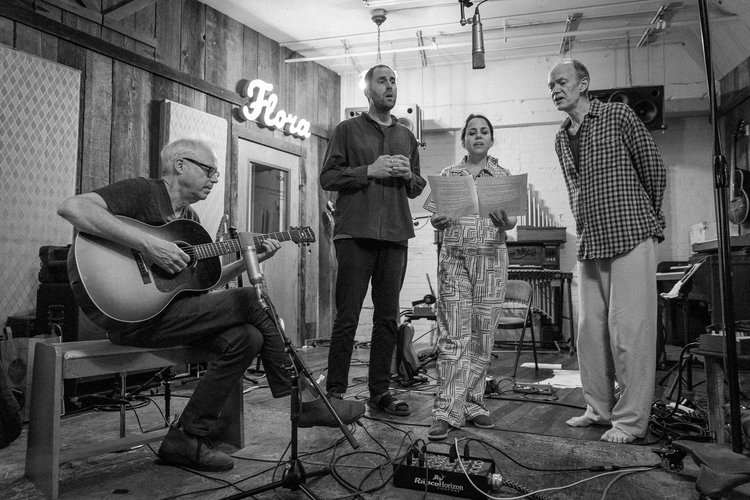 Today the musician from Baltimore is opening the Catania Jazz season presenting his new project 'Harmony', based on his voice and on the recovery of American music roots. On the bill John Scofield and Jason Moran too, along with much space for Sicilian talents. This jazz festival is the one with the highest number of subscribers in Europe
The guitarist Bill Frisell is the perfect symbol of a stylistic eclecticism and of a great attention to the most different musical genres. He has just come back to Sicily in a new and original guise to open the 37th Catania Jazz concert season at Teatro ABC today. As many know, he is a master of his art and a man who has never stopped absorbing and listening to new forms of expression. His music library is vast and varied as he has played with almost everyone in the world: Pat Me­the­ny, John Zorn, Joe Lo­va­no, Paul Mo­tian, Jan Gar­ba­rek, Gin­ger Ba­ker, Ma­rian­ne Fai­th­full, Bon­nie Raitt, Sting and El­vis Co­stel­lo, amongst others. He has released about ninety albums as a leader or co-leader and he has been the sideman in many other recordings. He has won two Grammy awards, five "Guitarist of the Year" prizes issued by the Jazz Jour­na­lists As­so­cia­tion and he has been regularly voted as the best guitarist by Do­wn­beat Ma­ga­zi­ne (15 times so far). He is not defined by a genre only, but embraces jazz, country, folk and film music, as well as avant-garde and whatever appeals his musical sensibility. This open-mindedness makes him admired by many people and lets him bring versatility, warm tones and delicate virtuosities in all his projects.
"While I 'sing' through my guitar, the others are singing with their voices. But what happens, essentially, is that we sing all together"
In the last few years this iconic guitarist and composer has dedicated himself to the recovery of American music roots, in conjunction with his debut with the Blue Note Records. And this is not all: Frisell has finally found his voice! "When I started to think about my new project, I was planning on involving musicians I had never met nor played with", he said. "I usually develop many friendships and relationships, and then feel a thrill when I bring together complementary people. In this case, I realized the situation only at the last minute. 'Wait a minute, Bill', I thought. 'These people are all singers, so why don't you try to do something together with them?'. As soon as they started singing, they rehearsed their parts spontaneously and it was so exciting for me to follow them with my guitar. While I 'sing' through my guitar, the others are singing with their voices. But what happens, essentially, is that we sing all together».
The singer Petra Haden (the daughter of the famous bass player Charlie), Hank Roberts (cellist and singer) and Luke Bergman (guitarist, bass player and baritone) are Bill Frisell's new fellow adventurers. An ensemble with a unique chemistry. 'Harmony' is the project name as well as the album's one, in inspiration to the path taken by the 68-year-old guitarist from Baltimore, who has transferred new compositions and reinvented some material from his library, in addition to many new interpretations of jazz and American genres in a dreamy atmosphere. His repertoire ranges from "On the Street Whe­re You Live" by Ler­ner and Loewe to "Deep Dead Blue" by El­vis Co­stel­lo, from the evergreen "Red Ri­ver Val­ley" (sung a cap­pel­la) and "Lush Life" by Bil­ly Stray­horn to a performance of "Whe­re Have All The Flo­wers Gone?" by Pete See­ger. And there even is a live version in adagio of David Bowie's "Spa­ce Od­di­ty".
"'Harmony' has become a research, the union of different voices into a unique narration, a balance of different elements, a whole that is greater than the sum of its parts"
"If I think back to my whole life, to all the music I have loved, why can't I put it all together at once?" wondered Frisell. "I can play Bob Dylan's song, a standard song or a Charlie Parker's one, and I find a way they can be harmonized together. Why shouldn't it be possible? After all, there is no reason why "Lush Life" and the traditional "Red Ri­ver Val­ley" can't stay together in the same album: they both are beautiful songs». And he highlighted: "'Harmony' has become a research, the union of different voices into a unique narration, a balance of different elements, a whole that is greater than the sum of its parts".
CATANIA JAZZ SEASON. Bill Frisell is one of the spearheads of the new Catania Jazz season, the jazz festival with the highest number of subscribers in Europe. "We are starting with 600 subscribers, but we plan to get the same number of last year, that is 800 subscribers at the end of the day, even if our record was 1,020 at the time of Teatro Metropolitan", proudly told us Pompeo Benincasa, historic associate of Catania Jazz. "I can confirm that we are the first jazz festival in the winter season and Ministerial data show that Catania Jazz is second only to Umbria Jazz as for box office". An excellence to safeguard and support, as it is a counterweight to the wind of crisis that cross the whole world of culture in Sicily.
The next performances on the bill are:
20th November – Char­lie Hun­ter & Lucy Wood­ward
10th December – Ke­vin Har­ris, Ameen Sa­leem and Greg Hut­chin­son
3rd February – John Scofield
25th March – Ja­kob Bro Quar­tet Feat. Mark Tur­ner
8th April – Jason Moran (his first debut in Sicily)
15th April – Lin­da Oh
28th April – Me­lis­sa Al­da­na

As one can see, there will be great space for local talents: from Giacomo Tantillo's Water Trumpet Quartet, who performed in Canada, Sweden, Malta and many other important Italian festivals thanks to the promotion of Catania Jazz, to the new album "Giulia" by Francesco Cataldo featuring Marc Copland at the piano, the bass player Piero Leveratto and the drummer Fabrizio Sferra. Passing by the piano debut of Francesco Branciamore, a drummer from Syracuse, and the preview presentation of Marangolo brothers' new album.
The pub Ma will be the set of the national premiere of the Haitian Moon­light Be­n­ja­min, a voodoo priestess and a powerful songwriter with an amazing vocal range, who passionately mixes voodoo and rock'n'roll. Moreover, there will be the presentation of the new album by the Sicilian-Danish Libertango and the exhibition of a guitar duo composed of Vincenzo Mancuso and his son Matteo, with the first work in progress album by Matteo, a well-known talent all over the world and who will be the only Sicilian guest at the National Association of Music Merchants (Namn) in Los Angeles.
Translated by Daniela Marsala