Aci and Galatea: a love flowing towards the sea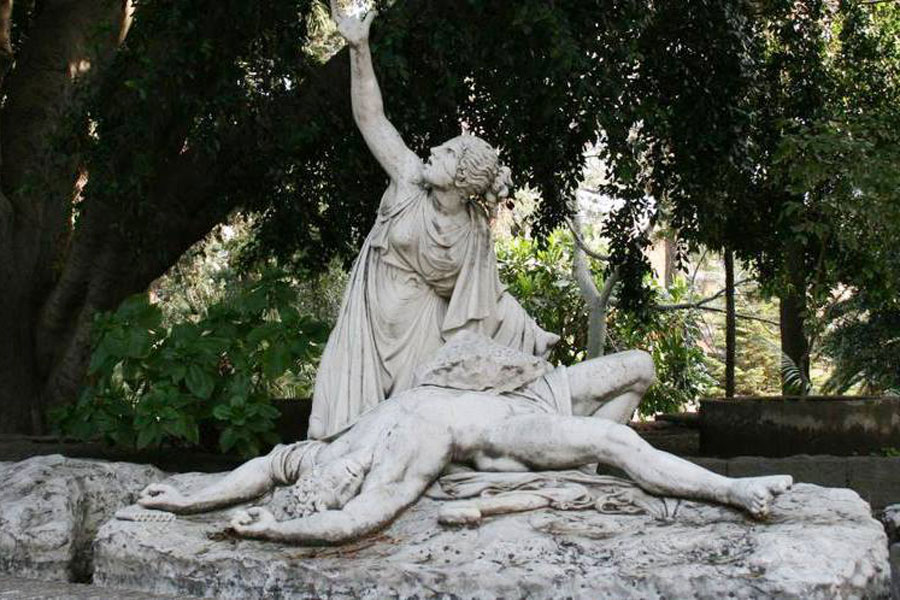 Close to Capo Mulini, in the province of Catania, the river Aci ends its course in a reddish-coloured source called u sangu di Jaci (the blood of Aci). A name that the small stream shares with nine of the municipalities that dot the Sicilian coast nearby. Among the best known there are Aci Castello, with its Norman fortress overlooking the sea, Aci Trezza, the small fishing village where Verga set his Malavoglia and Luchino Visconti shot his movie The Earth Trembles; Aci Catena is also fairly known, thanks to the archaeological site of Santa Venera al Pozzo and the palace Prince Riggio; and finally Acireale, a baroque city famous for its Baths and Carnival. Here, in Villa Belvedere, there is a statue depicting the young Aci and Galatea. This curious obsession of the Sicilian toponymy is due to their tragic love story.
THE MYTH. It is Ovid, in his Metamorphoses, who tells us about the story of Galatea, one of the fifty Nereids, the sea nymphs, daughters of Doris and Nereus, and the beautiful shepherd Aci, son of Faun and the nymph Simetide. Their story begins near the sea, where Aci used to graze his sheep, fell madly in love with Galatea at first glance. The passion of the shepherd was reciprocated by the nymph, which upset Polyphemus. Despite his long-time courting, the Cyclops, who lived in the volcano, was not reciprocated by Galatea. One evening, the giant saw them kissing by the sea and, blinded by jealousy, he decided to take revenge: as soon as Galatea plunged into the sea, he threw a lava rock on Aci who died crushed by its weight. When the nymph went where the lifeless body of her beloved laid, she shed all her tears. The Gods, moved by the pain and despair of Galatea, turned the blood of Aci into a river that went across the beach where they used to meat to finally lead into the sea, where the nymph, plunging into its waters, could embrace his beloved again and be reunited with him forever.
Translated by Daniela Marsala