A platform to connect the world through stories: this is how Wattpad presents itself. A few years after its launch it has a community of 60 million users.
A maze where you can find everything: love stories, fantasies and mysteries coming out of the pen of young people who improvise some lines for the simple pleasure of writing or who (sometimes) rediscover themselves as a talent worthing thousands of copies.
It all started with Anna Todd, whose "After" saga (a fanfiction dedicated to One Direction) was published in episodes on the well-known platform and then managed to become an editorial case, so as to sell more than five million copies worldwide and one million in Italy, thanks to the publishing house "Sperling & Kupfer".
Since then, there have been several editorial cases in Italy: we think about Cristina Chiperi, who became successful with "My dilemma is you" at only 16 years, or about Sharon Pivetta. With her fanfiction commented by the of Benji and Fede, she managed to turn the episodes of her story into a successful novel.
How is it possible to emerge among the thousand stories published on the platform?
«We have reached 67 thousand views in no time. We could not believe it", explain Valeria and Antonietta, two twenty-year-old girls coming from the town of Paternò, in the province of Catania, and who reached a small mileston signing a contract with a publishing house.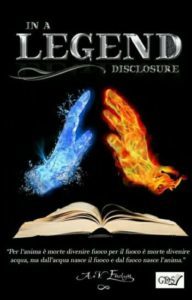 «We started writing for fun. As fantasy fans, we asked ourselves: "Why do not we write a book?" And so it was. From the very first chapters the comments of our readers made us realized that the story was being appreciated. We got excited, completed the first volume of the series (entitled "In a Legend", publishing house GDS) and sent it to a publishing house that will publish it soon».
For Valeria and Antonietta the secret of a good book is a compelling, original and well-written storyline. Antonietta explains that «Wattpad is an interesting channel, because it allows everyone to express themselves through writing. Some stories are valid and others are not, but this is inevitable». The site, laments Valeria instead, «does not protect the writers, as the stories have no copyright. This is why the risk of plagiarism is high».
«What do we expect after this milestone? For now we are keep on writing, then who knows if on day we could consider the idea of ​​doing it as a job. Meanwhile, we remain well grounded».
Translated into English by Eva Luna Mascolino